About Us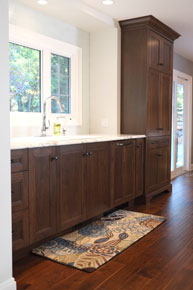 Kirk Woodworking is a husband and wife team. Our shop is located 10min south of Calgary.
Roland has been working in the industry for 16 years. He has experience working in small cabinetmaking shops through to large production shops with international markets. He has installed projects in the States and even Bermuda. Roland is a former cabinetmaking instructor at SAIT.
Sarah has been working in the industry for 13 years. She worked in a large cabinetmaking shop for 6 years and then became self-employed. Sarah teamed up with her Dad on several renovation projects and they spent one year building a house. She developed Kirk Woodworking at this time and that has been her passion ever since!
What do we do?
We work with designers, contractors and directly with the customer to develop custom millwork solutions. Our millwork is truly customized to fit the space. We use many different materials, a wide variety of wood species and will match any color. We build and install the project and often handle the design process.