Frequently Asked Questions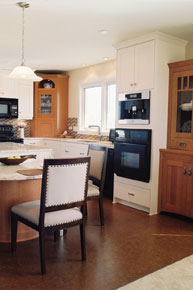 Do you build your project on site?
We build as much of the project in the shop as we can. We try to do as little site work as possible. This minimizes disruptions on the premises in regards to noise, cleanliness and time. We try to be as quiet as possible, protect existing surfaces, contain dust and clean up well.
Do you use solid wood?
Solid wood is our favorite material to use, but it depends on the project. Sometimes other materials are a better choice. We will discuss your options with you to determine the best choice of product for your project. Balancing aesthetics and functionality will provide millwork that looks and works well for you.
What colors do you offer?
We have a number of color samples to choose from, but customers often have existing millwork to match or provide a paint chip from a decorating store. Some of our most common wood species are cherry, maple and walnut and painted finishes are very popular too. We use a large range of wood species and colors so just bring your wish list and we'll go from there.
How do you get started on a project?
We usually start with a site meeting which is often at the client's home. Typically the client has a pretty good idea of what they would like. We also get a feel for their personal style based on the home or pictures that the client may provide. We measure the space and talk about materials and overall design. An approximate quote is provided by email or a second meeting. Should the client wish to proceed with the project, we require a deposit. We then continue to work towards a finalized drawing.
How long does it take to get my cabinets?
It depends on the size of the project and how busy we are. Typically it's about 6 -7 weeks to have millwork ready for installation from the time we receive finalized drawings with all details confirmed. The initial design process required to finalize drawings often takes about 1 month.
How long have you been in business?
Kirk woodworking has been in business since 2007.
What is the benefit of using a small shop over a larger shop?
As a smaller shop we have the ability to dedicate ourselves to unique projects. We build to fit the space and the requests of our clients. Larger shops often have to charge extra for changes and variations from their shop standards whereas we are dedicated to the custom arena.


We don't just build and install kitchens. Usually there are a number of millwork work pieces in a home that must match or relate to each other. We look after small items too, such as solid trim around a glass railing or an open shelf in a hallway.


We are able to keep a high level of quality because there are so few people working on the project. We see and touch every piece.